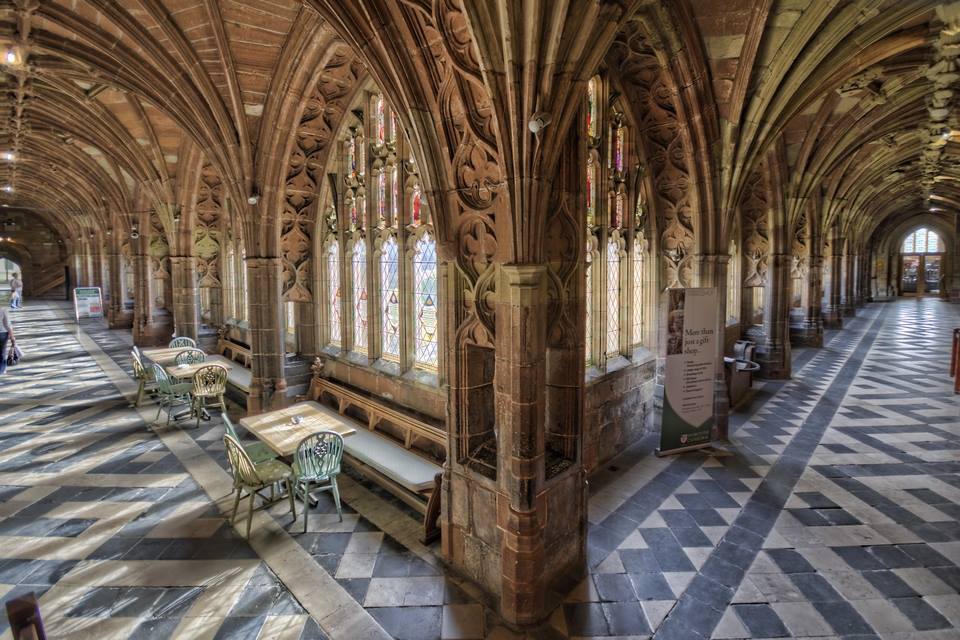 Enriched with a remarkable past and an inviting future, the city of Worcester is deep within the West Midlands and captivates visitors with its beautiful, Tudor architecture and scenic views. Home of traditional Worcestershire sauce and the impressive University of Worcester, the town has a wonderful array of attractions to see and a lot of things to do. If you're longing for a taste of English history and a relaxing day out, Worcester is the town for you.
1. Worcester Cathedral
Home to King John's tomb, this beautiful cathedral is really something to marvel at. Take a heavenly stroll throughout the interior of the medieval building and witness some of the most exquisite architecture that Worcester has to offer. Free entry for everyone, the cathedral is open daily from 7:30am-6pm. Visitors can get some refreshments from the coffee shop, buy souvenirs from the gift shop and have an educational tour of the inspiring building.
http://worcestercathedral.co.uk/
2. Worcester Canal
If you're enjoying a day trip to Worcester, you cannot miss the splendour of the canal itself. With a path to have a romantic walk on, benches to enjoy a family picnic and a place for feeding the ducks and swans, this spectacle of nature is one that everyone will enjoy. Starting from the bustling city of Birmingham, flowing through the green, calm hills of Worcestershire and then straight to the cathedral city of Worcester, the canal isn't hard to miss.
3. Tudor House Museum
History just fills the air of this medieval building. Explore a house with rooms which are almost 5 hundred years old and get a glimpse into the Tudor life with various displays. Admission is free with chances to get involved in some practical activities and a visit to the coffee shop to quench your thirst with a much needed hot drink. The Tudor House also has a variety of events to get involved with, including craft activities, Easter holiday trails and the national Museums at Night event.
http://www.tudorhouse.org.uk/
4. Museums Worcestershire
Comprising of 3 impressive venues: The County Museum at Hartlebury Castle, Worcester City Art Gallery & Museum and the Commandery, there is something to suit everyone. If you have a passion for the arts or just have a love of history, this is definitely a must do. With innovative exhibits and collections which span through decades of Worcester's history and right up to the present day. Brilliant for a family day out and a place for the kids to learn about the history of England.
http://www.museumsworcestershire.org.uk/museums/site/index.php
5. High Street Pubs and Restaurants
After perusing the streets of Worcester and seeing all these sights, you need a refreshing drink to quench your thirst and some tasty grub to fill your belly. What's better than popping into a close, convenient food place? Worcester offers an abundance of pubs and restaurants, most which are situated on the main High Street. A great place to take the whole family or to enjoy a romantic dinner for two, Worcester will offer something to satisfy your needs.
6. Gheluvelt Park
In Barbourne, Worcester, Gheluvelt Park was opened in 1922 as a memorial to the lost soldiers of World War One. Scenic and free entry for everyone, the park is a perfect place to spend a summer's day in. With a café to serve tasty snacks and drink, two tennis courts which are open to the public, outdoor gym equipment and a bandstand with regular performances, this park has it all. It also features the Gheluvelt Splashpad and a play area which serves as a great place for children to enjoy in the summer time.
https://www.dayoutwiththekids.co.uk/gheluvelt-park
7. Queen Victoria Statue
Standing proud outside of the Worcester Crown Court in Foregate Street is the marble sculpture of Queen Victoria. Restored in 2008, the sculpture is now gleaming white with its broken orb also restored. While you're in Worcester, remember to visit and admire this impressive craftsmanship by Thomas Brock. Maybe enjoy the taste of some English fish and chips on the nearby benches while doing so. If you're going at night expect to see the statue lit up with flood lights, this emphasises the glory and beauty of Queen Victoria.
8. Croome Court
In the heart of the English landscape, Croome Court is one of Worcestershire's most remarkable and renovated pieces of history ever created. This is a wonderful place to visit if you are sick of the city and craving for a rural adventure. Enjoy a stroll through the tranquil park and floral gardens, marvel at the exciting exhibitions in Croome Court and learn the history of the RAF Defford within their museum.
https://www.nationaltrust.org.uk/croome
9. The Hive
One of the most innovative, newly designed buildings in Worcester, The Hive stands as an exemplar of helping the world's ecosystem and future. For all you book-lovers sign up for a library card and revel in the fascinating history and literature which is available. There are some exciting events and noteworthy exhibitions coming up such as, Hive at Five and WW100. Made from sustainable materials and featuring recycling facilities throughout, The Hive is a revered building which inspires all with a new age of architecture.
http://www.thehiveworcester.org/
10. CrownGate Shopping Centre
For all you shopaholics out there, this is a must on your To-Do list. If you're buzzing to do some buying or simply wanting to window-shop, a walk through the CrownGate shopping centre will do just the trick. From fashion to electronics, homeware to cosmetics, there is something for everyone here with over 60 stores to enjoy. If you're feeling peckish, grab a bite to eat in one of the cafés, restaurants or bars.
http://crowngate-worcester.co.uk/
Article by Laura Bourne for Grapevine Worcrstershire @LauraBourne96