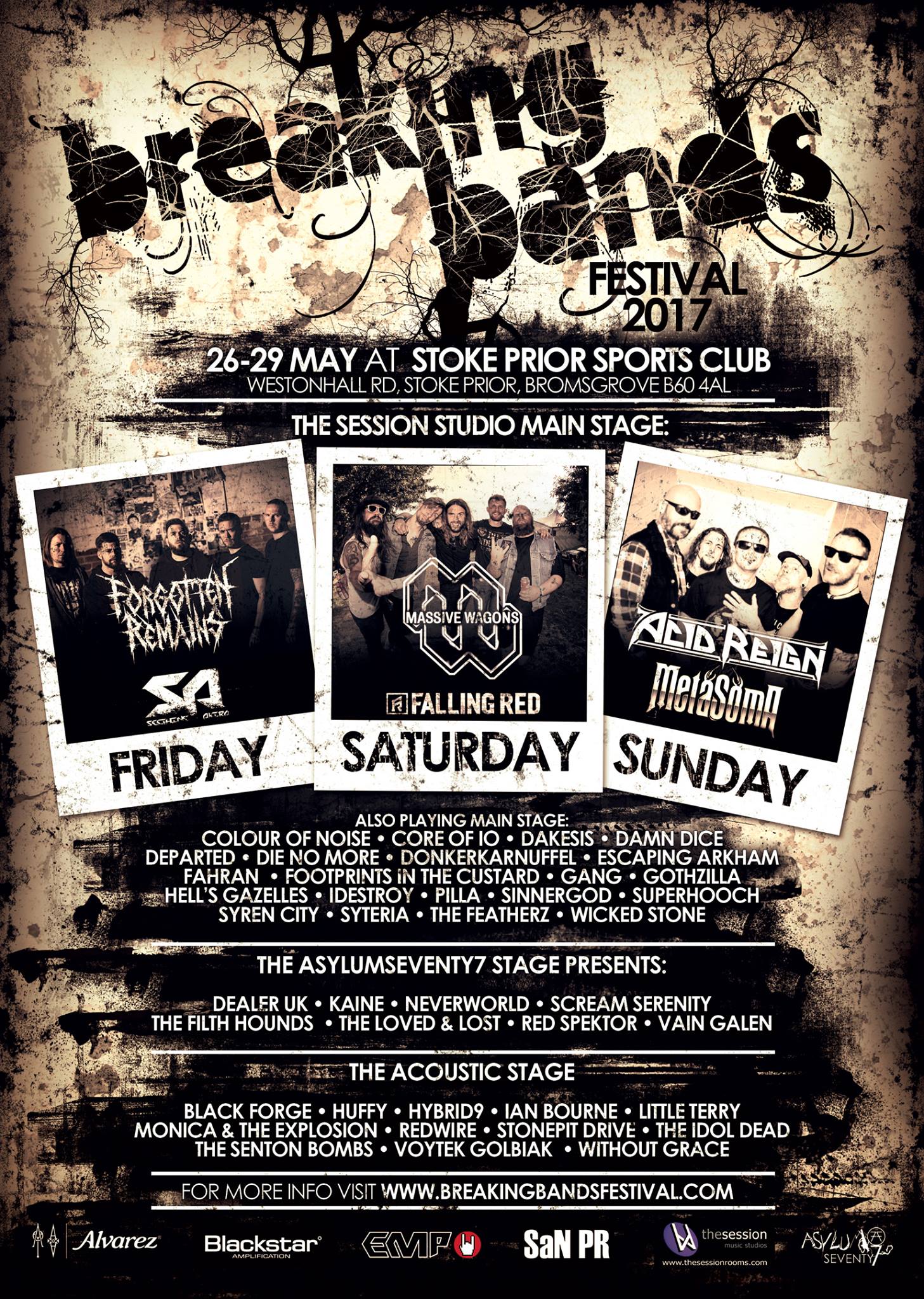 Breaking Bands Festival in its 3rd year after 2 sold out years. Award shortlisted for 'Best New Festival' in 2015 as well as 'Best Small Festival' and 'Best Festival for Emerging Talent' for 2016 the event now goes bigger with 3 stages and 47 bands over the 3 day bank holiday weekend.
Friday night sees hardcore dub-step metallers Seething Akira take the stage as sub-headliners with an explosive finish to day 1 in the way of old school thrashers Forgotten Remains. Saturday has a real mixed bag of rock and metal throughout the day ending with a trio of heavy hitting rockers Die No More, Falling Red and headliners Massive Wagons.
Sunday kicks off with flock rockers The Featherz and then goes into a frenzy of rock throughout the day building up for a great finale as Metasoma from London treat us to a mix of rock and metal before Sunday special guest band Acid Reign take the stage and blow the night apart with their full on thrash attack to show the crowd why they came back after 25 years!
The weekend boasts 3 stages with the main stage indoors and a marquee split stage of acoustic and electric throughout the weekend. With real ales, cheap draught beers and the best food stalls for value, everything has been planned just right for a bank holiday to remember.
Each year the fans vote on a theme for the festival and have some fun dressing up and taking part in theme style activities. This year the theme is superhero's and as a family friendly event where kids under 14 get in for £1, its the perfect setting for a fun weekend.
Day tickets for Saturday and Sunday are £20 each and weekend tickets with free camping are just £30 which includes Friday entry to the festival. With proper toilets and showers, a great central location with the backdrop of the Malvern Hills, its one of the best weekends of the year for music.
Tickets are on sale now at http://www.breakingbandsfestival.com or http://www.wegottickets.com/f/10593
26th – 29th May at Stoke Prior Sports Club in Bromsgrove (Worcestershire).
The line-ups for the weekend (not in stage order)
The Session Studio Main Stage:
Friday: Dakesis, Fahran, Syren City, Seething Akira (sub headline, Forgotten Remains (headliner)
Saturday: Colour Of Noise, Core Of IO, Die No More, Donkerkarnuffel, Footprints In The Custard, iDestroy, Pilla, Sinnergod, Superhooch, Falling Red (sub headline), Massive Wagons (headline)
Sunday: Damn Dice, Departed, Escaping Arkham, Gang, Gothzilla, Hell's Gazelles, Syteria, The Featherz, Wicked Stone, Metasoma (headline), Acid Reign (special guests)
The AsylumSeventy7 Stage:
Saturday: Kaine, Neverworld, Red Spektor, Scream Serenity
Sunday: Dealer UK, The Filth Hounds, The Loved & Lost, Vain Galen
The Acoustic Stage:
Saturday: Black Forge, Huffy, Hybrid9, Ian Bourne, Redwire, The Idol Dead
Sunday: Little Terry, Monica & The Explosion, Stonepit Drive, The Senton Bombs, Voytek Golbiak (Metasoma), Without Grace.