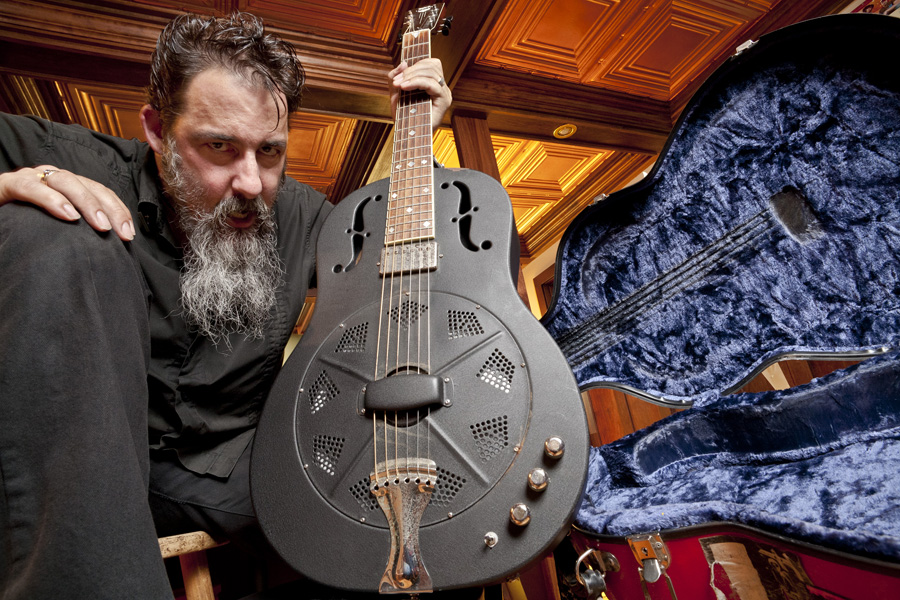 SCOTTISH alt.blues troubadour Dave Arcari returns to Upton-upon-Severn to appear at Upton Blues Festival's Big Top stage on Saturday 21 July (6pm) as part of an ongoing tour to promote his latest single.
Whisky Trail reveals another side to Arcari who is known mainly for his slashing slide guitar work, showcasing his banjo playing and a mellower side to his songwriting and performance. It's available to stream and download via Spotify, Apple Music and all digital services.
Arcari has just returned from a run of shows in Netherlands and Germany and after his Upton appearance, plays a series of UK festival and club dates before embarking on his sixth USA tour through October into November.
"Actually, the banjo has featured in my live set for a while, but I only had a couple of songs on it," says Arcari. "And while they (Still Friends and Good Moonshine) have become crowd favourites, I felt it was becoming too predictable that I'd play these songs when I picked up the banjo.
"So I was keen to come up with a new banjo song that was a little different. This one is based on the story of Glengoyne single malt whisky….our local distillery. There's a few more in the pipeline for both slide guitar and banjo."
Arcari's last full length release – Live at Memorial Hall – hit the streets last autumn on double 180g coloured vinyl and digipak CD as well as download/streaming via iTunes, Spotify, Amazon MP3 and the usual digital services.
Arcari has recently been taken onboard by Reunion Blues Gig Bags as an official artist, another partnership which sees the premium instrument case manufacturer join Arcari's list of endorsees alongside National Reso-Phonic Guitars, Newtone Strings, G7th Capos and Diamond Bottlenecks.
"Dave plays like he got his skin turned inside out and pretty soon my skin was inside out too listening and it was all good. That boy bleeds for you – he a real down deep player and a soul man…" SEASICK STEVE
web 1: http://www.davearcari.com
web 2: http://www.facebook.com/davearcarimusic
web 3: http://www.thebuzzgroup.co.uk