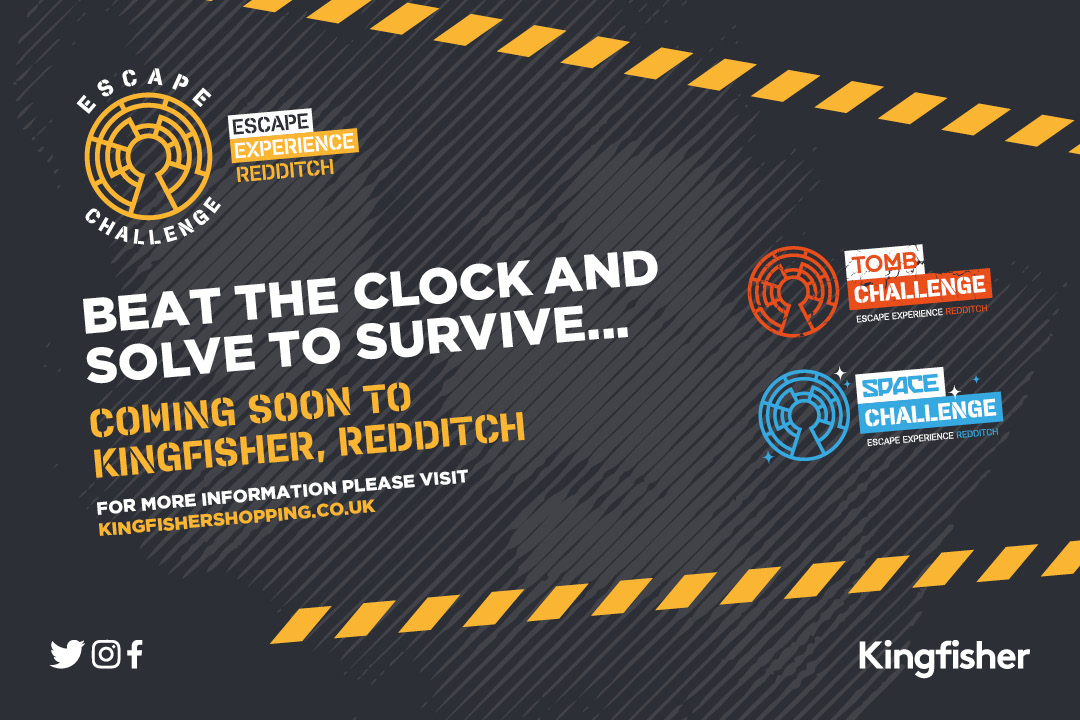 Kingfisher Shopping Centre is set to play host to the first ever escape experience for Redditch, which is sure to be an exciting, fun and challenging activity for friends, family and workmates.
This new, exciting family friendly pursuit is suitable for anybody over the age of 12 years old and is aimed to test both individual and team abilities as the challenges are a race against the clock.
Escape hunters will be given just one hour to crack codes and complete puzzles in order to escape two rooms: Space Challenge and Tomb Challenge. In Space Challenge, participants will be the only surviving crew aboard a malfunctioning spaceship that's been left in ruins after a collision and required to fix systems and reinitiate the ship's artificial intelligence system. Tomb Challenge will lock challengers deep in an ancient tomb and left to work out an alternative escape route to the exit that has caved in.
Escape rooms have proven to be increasingly popular all over the UK; however, the new addition to Redditch has a unique twist, setting it apart from any similar experiences. The immersive themed escape room sends participants into a new world. Every time you visit, the puzzles and games required to escape the rooms will be altered, meaning that once you've cracked it you can still be challenged for another visit. Escape Challenge boasts some of the most high tech show control systems in the escape/themed attraction industry which automatically rotates the tasks so that challengers are able to return multiple times, adding a more competitive edge to the activity.
Ken Williams, General Manager of Customer Experience has said:
We're very excited to host Redditch's first ever escape experience. We're looking forward to adding another family centred activity to Kingfisher to bring families and friends together for a unique, mentally challenging and fun activity like they won't have experienced together before
The multi-room themed story experience will be the first of its kind in Redditch, adding to its list of growing family entertainment. James Hollamby from Being Creative who have partnered with Kingfisher on the Escape Experience, states that: 'We think the Kingfisher Shopping Centre in Redditch is the perfect location for one of our escape experiences. With a family orientated ethos and brilliant space, we're excited to get going and challenge the people of Redditch to survive a space collision or escape from an ancient tomb – as well as experience a different outcome each time around'.
Redditch's Escape Challenge will be opening mid-June for 3 months welcoming visitors from in and around the area. For full details please visit Kingfisher website: https://www.kingfishershopping.co.uk/news-and-events/events/escape-challenge-redditch.html