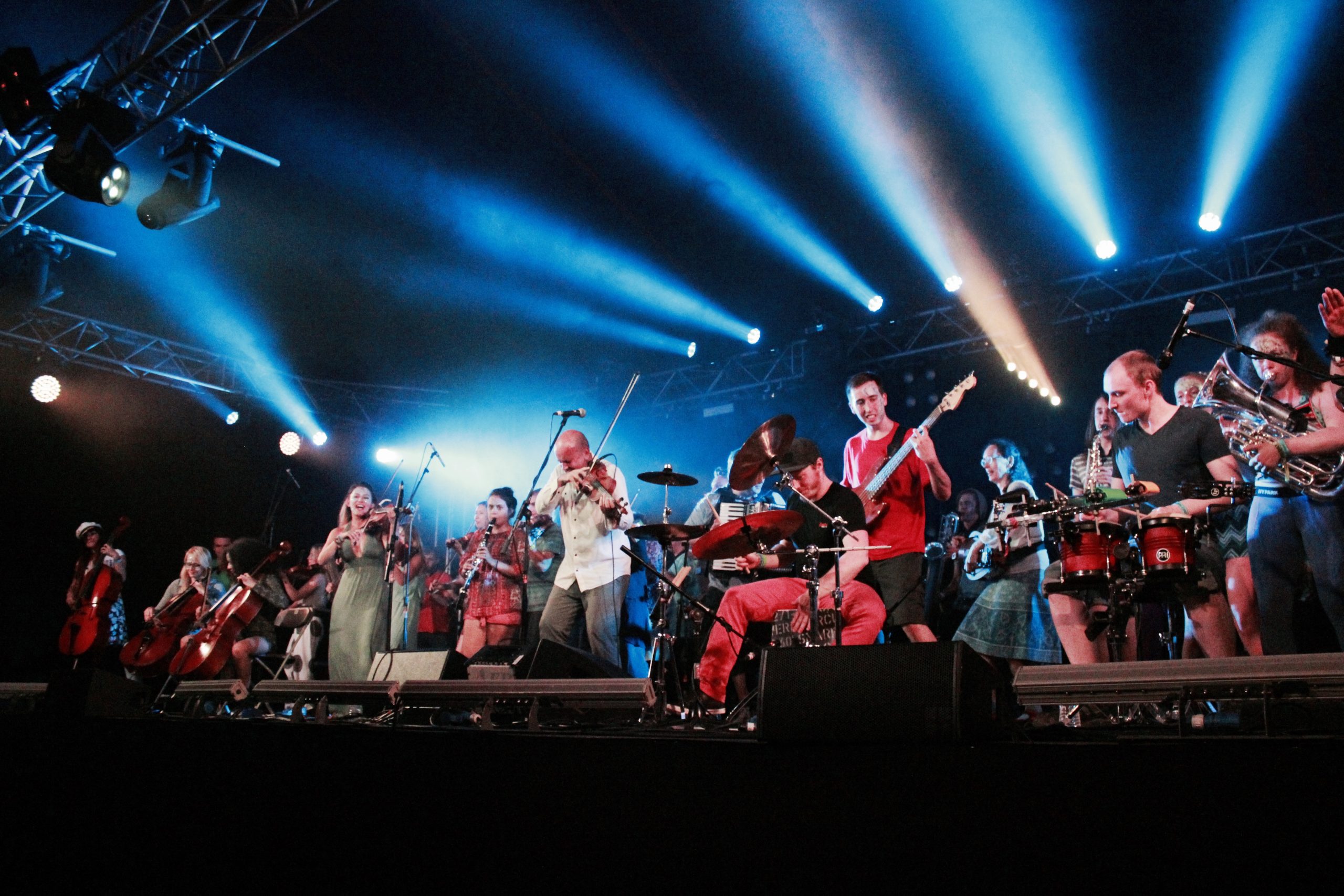 It's no exaggeration to call the Conservatoire Folk Ensemble the UK's biggest folk band.
With a stage-challenging 50 members in its touring line-up, and nearly twice that rehearsing each week, the most immediate distinguishing feature of the ensemble is its sheer size.
Among them are fifteen horns, four cellos, five percussionists, five electric guitarists, plus fiddles, flutes, clarinets, electric bass, acoustic guitars, an accordion… they sing too.
It should come as no surprise, then, that the last two years have been particularly challenging for a band that is a 'mass gathering' before it even leaves the rehearsal room.
Yet thanks to the dedication and ingenuity of the young people involved, the band managed to rehearse online every week whilst its HQ, at Royal Birmingham Conservatoire, was shut down.
What's more, they even managed to host two online festivals, streamed to their fans around the world, with each member providing content filmed from home to form an epic digital concert experience.
Formed at Birmingham Conservatoire in 1997 by fiddle player and arranger Joe Broughton (The Urban Folk Quartet, The Albion Band, Joss Stone), 2022 marks the super-sized group's 25th anniversary.
Over its quarter century, the Folk Ensemble has established a reputation for creating energetic and powerful shows. Their increasingly popular live appearances – especially at such festivals as Cropredy, Towersey, Shambala, Green Man and Kendal Calling – have left audiences ecstatic and even (at Towersey) moved to tears.
With membership coming from across Royal Birmingham Conservatoire's courses, the personal influences of each member shapes the set-list, as traditional English and Celtic reels slide into full-on rock grooves, funk, jazz, hip hop, ska and reggae.
Latin, Eastern European and Asian flourishes can also be heard, reflecting the rich cultural heritage of the group. This is very much 21st century folk. Or as they've titled their annual home town self-produced one-day festival, now in it's 9th year – 'Power Folk'.
Recorded in early March 2020, the Ensemble's latest release is Not Leaving Quietly.
Says Joe of the album: "We began the 2019-2020 year by playing a concert in The European Union Parliament, in Brussels, for an event organised by the amazing Ellie Chowns (then an MEP) called Not Leaving Quietly. It was a very emotional experience, playing at the heart of Europe at a time like that and, being one of the noisiest bands on the planet, we were certainly geared up to not go quietly."
Recording for the album started just 10 days before the Prime Minister told the UK to cease 'non-essential contact and travel'.
"After six months writing and rehearsing new material, we set about recording this album on March 6, 2020," Joe recalls. "I had made the decision that we would go for a very live feel, all playing together in one room for just one day. This was an ambitious plan with a tight schedule."
But the day didn't quite go to schedule.
"In a dramatic turn of events, a fire alarm went off in the middle of the day and as the ensemble left the building, many still playing the tunes as they went, I had a flash back to the band singing on the way to the coach in Brussels and smiled to myself, thinking – this band never leaves anywhere quietly!
"We returned to our recording with even less time to get everything done, but somehow that gave everyone an extra boost of energy that you might just hear in the tracks."
The album received a 'soft release' in 2021, with CDs being made available directly to the band's loyal supporters, who helped ensure the ensemble's survival.
Now, to coincide with the 25th Anniversary Tour – which begins with a huge Reunion Concert at their Brum base, before appearances at several major UK festivals – the energetic and sweeping Not Leaving Quietly receives the full release it deserves.
Joe Broughton's Conservatoire Folk Ensemble
25th Anniversary Tour
Saturday 14 May 2022 – 25th Anniversary Reunion Concert, Royal Birmingham Conservatoire, Birmingham
Thursday 9 June 2022 – Alexander's, Chester
Friday 10 June 2022 – Huntingdon Hall, Worcester
Saturday 11 June 2022 – Sutton Village Hall, Sutton, Bedfordshire
Sunday 12 June 2022 – Power Folk 9, The Spotted Dog, 104 Warwick St, Digbeth, Birmingham B12 0NH. From 3pm-late. Featuring Joe Broughton's Conservatoire Folk Ensemble, plus The Urban Folk Quartet, Kevin Dempsey, Thorpe and Morrison, Tom Leader and Jonno Gaze, and special guests.
Saturday 18 June 2022 – The Junction, Goole, East Riding of Yorkshire
Sunday 10 July 2022 – New Forest Folk Festival, Hants
Sunday 24 July 2022 – Secret Garden Party [Sold Out]
Friday 29 July 2022 – Kendal Calling, Lowther Deer Park, Cumbria
Monday 1 August 2022 – As You Like It Festival, Walton Hall, Wellesbourne, Warwickshire
Thursday 18 August 2022 – Green Man Festival, Brecon Beacons, Wales
Sunday 28 August 2022 – Shambala [Sold Out]
For tickets and more information, see: folkensemble.co.uk
Find Joe Broughton's Conservatoire Folk Ensemble on social media:
Twitter: @thefolkensemble
Instagram: @thefolkensemble
facebook.com/ConservatoireFolkEnsemble