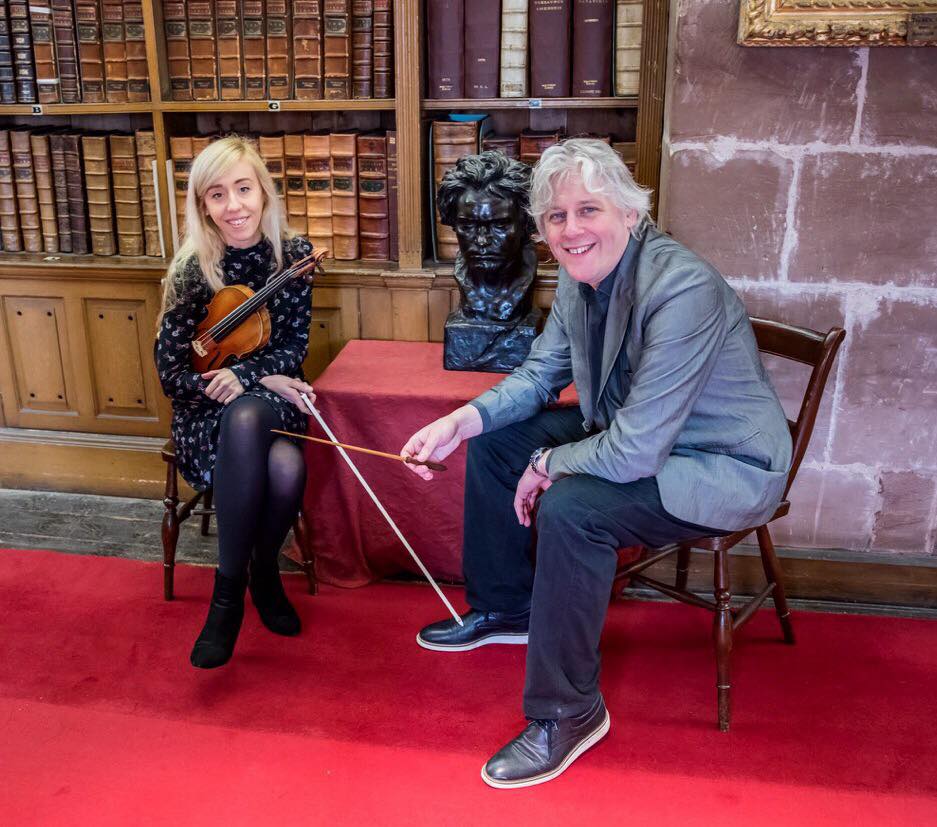 Ahead of their concert in Worcester Cathedral on Saturday 5th May ​Orchestra of St John ​conductor Richard Jenkinson and orchestra leader Charlotte Moseley visited the wonderful Worcester Cathedral Library to connect with Beethoven and Elgar.
When the Orchestra learnt that the Cathedral Library had a bust of Beethoven and Sir Edward Elgar's baton they set about arranging to connect with the two items, and soon enough the duo of conductor and orchestra leader were posing for photos! Richard Jenkinson said
It was such a privilege to hold Elgar's baton, and to think of the wonderful music he conducted in the city of Worcester" Charlotte added "I am really excited to be performing in Worcester Cathedral. I'm certain it will be a very special evening.
The Orchestra of St John, from Bromsgrove, will perform Beethoven's Choral Symphony to celebrate the completion of a cycle of all nine of Beethoven's symphonies, and the performance of the Elgar Violin Concerto by Charlotte celebrates her huge achievements in music culminating in her receiving a Masters Degree with Distinction from the Royal Academy of Music last year and being awarded the coveted Royal Academy Diploma for her outstanding final recital.
Beethoven's ninth symphony is also known as "The Choral" and the audience on Saturday 5th May can expect a choir of around 100 voices from local choirs and choral societies. These voices coupled with the 60 strong orchestra will really raise the roof at Worcester Cathedral and make for an unforgettable experience for the audience, and the musicians!"
​ ​
When asked about the performance Richard Jenkinson​ said:
There can be no better place to spread Beethoven's anthem of joy for mankind than the sublime setting of Worcester Cathedral. This concert also celebrates Worcestershire's favourite son, Edward Elgar, in the Cathedral that meant so much to him.