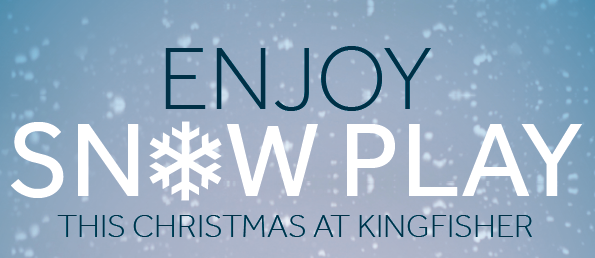 It's the most wonderful time of the year and Kingfisher Shopping Centre in Redditch has a stocking full of Christmas cheer to ensure shoppers jingle all the way through the festive season from Saturday 23rd November to Sunday 5th January.
Back again by popular demand and bigger than last year, Snow Play returns to the centre for an unforgettable winter wonderland experience and new for this year, children will get to meet and greet Father Christmas as he takes residence in his cosy lodge on Thursdays through to Sundays until Christmas Eve.
Snow Play is a fun indoor snow experience bringing the enchantment of a white Christmas to life with synthetic snow and fluffy snowball pom poms for kids to play with, all under falling snowflakes that magically disappear. During their visits guests will take a journey through an unforgettable festive experience with snow scene walls, twinkling colourful lights, a chilling freeze frame wall to make 'Christmassy' memories with loved ones, as well as a letter writing service to Santa.
These magical activities will take place on Walford Walk opposite Muffin Break and is suitable for children aged up to 10 years. There will be two snow pits, one for children aged 3 to 10 years and the other for younger guests from 18 months to 3 years accompanied by an adult. There will also be weekly dedicated quiet sessions for our guests with special requirements.
Domonique Lippett, Marketing Manager at Kingfisher has said: 'We are delighted to be able to bring the magic of Christmas to life for our shoppers with the return of Snow Play and are excited to be launching a new Santa Experience this year to further enhance our festive entertainment for the whole family to enjoy.'
Plus, the Redditch Town Centre Lights Switch On, hosted by Redditch Borough Council and supported by Redditch Town Centre businesses through Redditch Business Improvement District will take place on Saturday 23rd November. The event commences at 3.30pm with a Christmas parade at the Town Hall followed by a range of festive family entertainment, such as on-stage performances with the headline act being The Greatest Showman, before the town centre's lights are switched on by Father Christmas.
*Snow Play will be closed on Christmas Day and New Year's Day.
For more information please visit: kingfishershopping.co.uk
Overview of activities:
Saturday 23rd November – Sunday 5th January: Snow Play
Saturday 23rd November – Tuesday 24th December: Santa Experience
Thursday 19th December – Tuesday 24th December: Primrose Hospice Charity Gift Wrapping Service