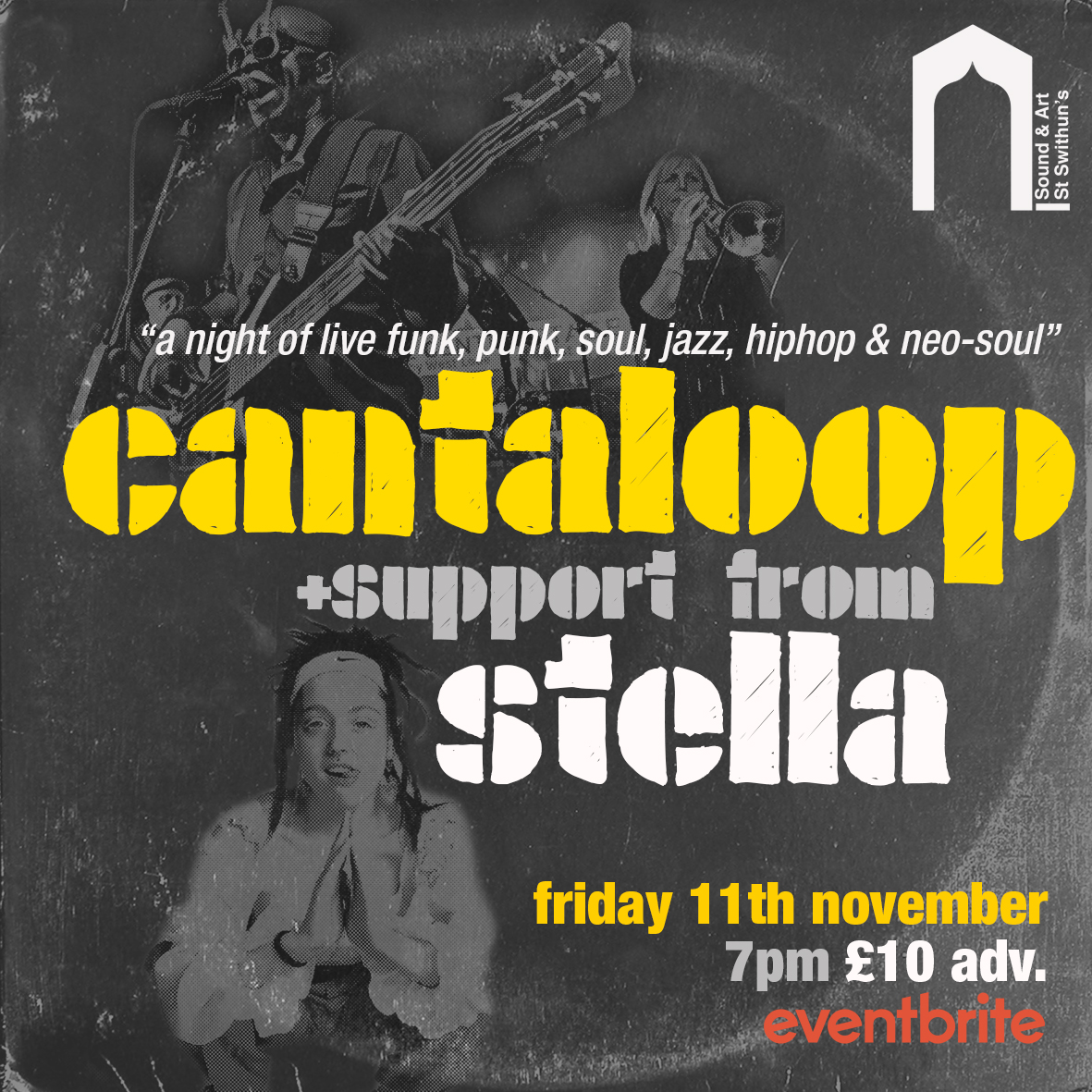 Never mind whoever the new superheroes of funk are said to be this week………. here's Cantaloop!
This is a rebirth for Cantaloop, they've decided to switch things up. That being said Cantaloop still embody unity and community. This is ever present, so brothers and sisters get your hi-fi bodies together because here comes their 2.1 future!
Cantaloop have fused their organic funk and digital beats into one, cutting up in the studio to bring that mix of 'Ol Skool, New Flavour' to the live stage. So they've put the drummer in a box and embraced the cut and paste technology and their new found willingness to transform thus creating the perfect vehicle to appeal to both clubs, festivals and venues.
Having always loved the past and present the band have mixed their sound into a ever-powerful body of Funk, Punk, Soul, Jazz and Hip Hop.
So here comes the start of their get down.
"Cantaloop are one of the best support acts we have taken out on the road with us!" – Huey Morgan (Fun Lovin' Criminals)
"…These Mother Funkers are great!" – Geno Washington
Stella>>>
Out of a dark and dingy bedroom in the depths of the Black Country emerged a creature whose ears pricked up at the sound of twanging guitars and cracking drum beats. Galloping around, she made friends wherever she went and caused mischief along the way. She was a rebel; no care for the rules or the way things should be done. This was the beginnings of Stella.
Stella's relationship with life has been an integral component in the sculpting of her sound. Passionate, sensitive yet dynamic, evocative and lyrically provoking, it embodies her struggles growing up in what, at times, was a cruel world. Alongside these qualities she has a natural gift for writing alluring melodies and the caressing vocals to deliver them in symbiotic harmony. If you're a lover of honest, raw, emotive music, then Stella is for you.
So, what can you expect from a Stella show? Well, that's not something that can be captured in a few words. What can be promised however is that you'll leave with a smile on your face.
Her inspirations span far and wide and reach beyond music and her immediate experiences. As a devoted feminist and environmentalist, she endeavours every day to make the world a better place and much of her creative expression originates from this. She is also a romantic and is able effortlessly to conjure up heartfelt songs to eternalise a moment. Some of her main musical influences include Lily Allen, Mac Miller, Bob Marley, Jorja Smith and Tom Misch.
In the last few years, she has established herself as a household name on the Birmingham scene, winning best pop act at the Birmingham Music Awards in 2018, where she caught the attention of John Taylor of Duran Duran, who commended her for her performance and wrote about it on his social media pages.
Stella does not meet societal standards, and she doesn't want to. Her intention is to bring people together, to share laughs, spread good vibes, provoke thought, encourage the individual to challenge themselves, to question their beliefs and values, inspire them, and ultimately to create a better world for everyone.
So, what are you waiting for? Join the Stella movement today!
Doors: 7pm / Support: 7:45 – 8:30pm / Cantaloop: 8:45 – 9:45pm / Close: 10pmAdults 18+ (Full licensed bar throughout show).