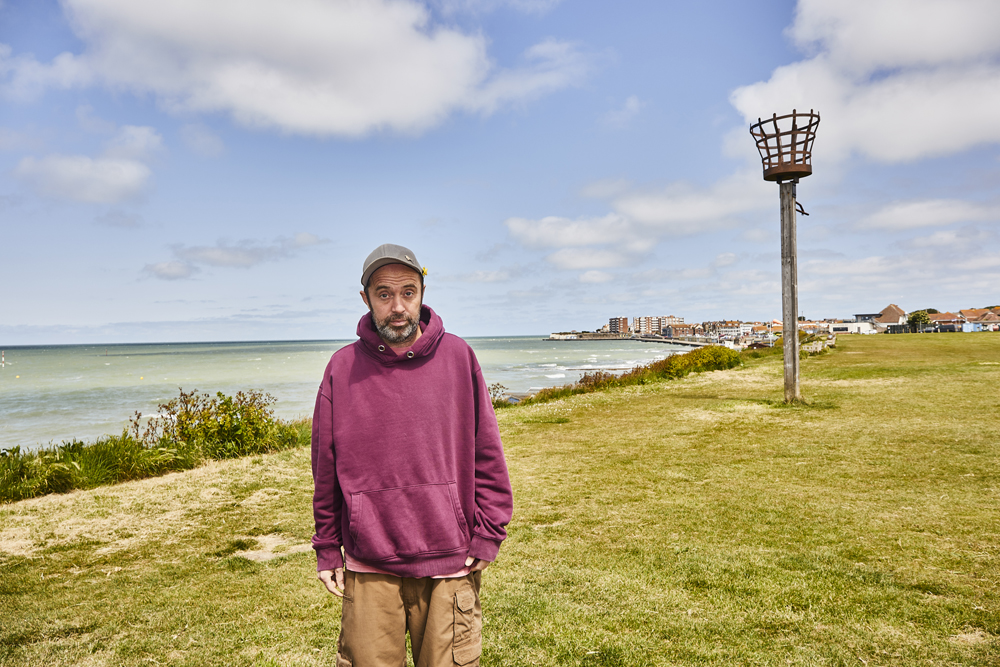 "She woke up as a dragon, turned into a unicorn, then invented something she called a… Dragicorn"
If Beans on Toast's previous single "The Golden Lion" was all about the myths and legends to be found in a Yorkshire pub, his new release "The Dragicorn" finds him embracing the fantastical creations of the childhood imagination.
Dedicated to his five-year-old daughter, who also stars in the official video, it's a song about the simple virtues of playtime and parenthood. As Beans says:
"This is a song about playing dragons and unicorns with my five-year-old daughter. For all my songs about saving the world, really the most important thing I can be right now is a good Dad. Parenting isn't easy, but it's amazing, and while I try to teach my daughter about life, she teaches me what life is about. Many folks would have seen her this Summer as she came to loads of festivals and always gets up on stage for a bit of a dance and a little go on the microphone, always stealing the show…. She's a big fan of rock n roll – so this song had to be a rock n roll song."
With its creative wordplay, wooping doo-wop vocal hooks, slick rockabilly riffs, and zany gospel organ solos, "The Dragicorn" is a playful addition to the Beans on Toast songbook. It will feature on the upcoming album 'The Toothpaste And The Tube', which will arrive on 1st December 2023.
With its title indebted to that old adage that "you can't put toothpaste back in the tube", the latest Beans on Toast album promises to hit hard and hit home. Across its 13 songs, the cult folk artist takes centre stage to deliver unfiltered takes on the environment's dire straits, the UK political landscape, the ominous rhythm of war drums, and the impending AI revolution (as on previous single "A.I."). But don't let the weighty topics fool you – this album will also delve into the lighter side of life, with reflections on parenthood, whimsical creatures, and the sheer bliss of a sea dip. It's Beans on Toast cranked up to perfection, offering a dynamic blend of profound insights and pure, unadulterated enjoyment. Written with Beans' usual wit and warmth, it was recorded with the sensational blues duo Ferris & Sylvester. Pre-save it here.
In support of the album, Beans will be hitting the road for a marathon 36 date tour throughout 2023/24, including a special launch show at 'The Golden Lion' pub. Today, Beans is pleased to announce that support for the November and December part of the tour will come from Brighton beat poet Bassie Gracie, plus one man rock'n'roll rollercoaster Tensheds. Both acts will also join Beans on stage to perform as a trio for his own headline set. The full list of dates can be found below and are on sale now.
'THE TOOTHPASTE AND THE TUBE' TOUR 2023/24
NOVEMBER
22 TUNBRIDGE WELLS – The Forum
23 GUILDFORD – The Boileroom
24 BEDFORD – Esquires
25 STOWMARKET – The John Peel Centre
26 DERBY – Annie's Burger Shack
28 SCUNTHORPE – Cafe Indie
29 POCKLINGTON – Arts Centre
30 BLACKPOOL – Bootleg Social
DECEMBER
01 ** Album Launch Show ** – TODMORDEN – The Golden Lion
02 MOSSLEY – The Vale
03 SHREWSBURY – Albert's Shed
05 WORCESTER – St Swithuns Church
06 OXFORD – The Jericho Tavern
07 CARDIFF – The Globe
08 WESTON-S-MARE – Electric Banana
09 BIDEFORD – The Palladium
12 TRURO – The Old Bakery
13 TOTNES – The Barrel House Ballroom
14 BRIDPORT – The Electric Palace
15 ISLE OF WIGHT – Strings Bar & Venue
FEBRUARY
21 NEWCASTLE – Cluny
22 GLASGOW – Stereo
23 EDINBURGH – La Belle Angele
24 MANCHESTER – Band on the Wall
25 NOTTINGHAM – Rescue Rooms
27 SHEFFIELD – The Leadmill
28 LINCOLN – The Drill
29 BIRMINGHAM – Hare & Hounds
MARCH
01 LEEDS – Brudenell Social Club
02 BRISTOL – Thekla
03 EXETER – Phoenix
05 READING – Facebar
06 BRIGHTON- Chalk
07 PORTSMOUTH – The Wedgewood Rooms
08 MARGATE – Olbys
09 LONDON- The Garage